VIRAL Expansion of Model...

If but three people in each state (150 in total), learn about the model
and within one week show and explain it to at least three others and
ask them to do the same, we can appreciate the rate at which
this model will go viral.





Return to Home Page...

A donation of any amount, though not required, would be appreciated.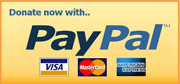 You can help us by making a secure donation. For those generous people, we will give you a FREE copy of the Atlas Rejuventaed eBook!!!
---
More Info:


---
Contact Us:
James Courtade
9038 Whitneyville Ave.
Alto, MI 49302
(616) 335-1454
EMail Us